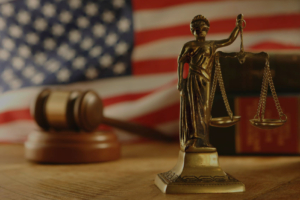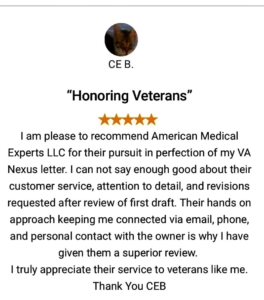 Better Business Bureau Accredited Business A+ Rated

We want to thank you for your service to our country. Nexus Letters are one of the most important parts of a claim for VA benefits.  It is critical that the right doctor who knows how to address all aspects of your claim and knows what the VA requires is in your Nexus Letter.  Also, we understand that your financial resources are limited. We will work with you on the cost of the Nexus Letter; we will place everything in writing so that you know the cost going forward and the benefits of our two step process.
We have the right doctors and we offer the lowest rates. Please READ all reviews online, Better Business Bureau, Google reviews, and Site Jabber, etc.  Read them all!   Call us today and let us help you.
Here is a list of just some of the Medical Nexus Conditions that we helped our Veterans with:
Cancer Delay in diagnosis Nexus Letter
Agent Orange Nexus Letter
Allergic Rhinitis Nexus Letter
Arthritis of the Lumbar Spine Nexus Letter
Asthma Nexus Letter
Asthma secondary to Allergies Nexus Letter
Camp Lejeune Water Exposure Nexus Letter
Cervical Strain Nexus Letter
Chronic Cystitis Nexus Letter
Chronic Fatigue Syndrome Nexus Letter
Chronic Obstructive Pulmonary Disease Nexus Letter
Coronary Artery Disease Nexus Letter
Depression Nexus Letter
Diabetes Mellitus Nexus Letter
Erectile Dysfunction Nexus Letter
Erectile Dysfunction secondary to Coronary Artery Disease Nexus Letter
Erectile Dysfunction secondary to Depression Nexus Letter
Erectile Dysfunction secondary to Diabetes Mellitus Nexus Letter
Erectile Dysfunction secondary to PTSD Nexus Letter
Esophageal Stricture secondary to Esophagitis Nexus Letter
Fibrocystic Breast Disease Nexus Letter
Folliculitis Nexus Letter
Gastroesophageal Reflux Disease Nexus Letter
Gout Nexus Letter
Gulf War Syndrome Nexus Letter
Hemorrhoids Nexus Letter
Hypertension Nexus Letter
Hypothyroidism Nexus Letter
Individual Unemployability Nexus Letter
Ischemic Heart Disease Nexus Letter
Knee Condition secondary to Ankle Condition Nexus Letter
Left Knee Condition secondary to Right Knee Condition Nexus Letter
Migraines Nexus Letter
Misdiagnosis Nexus Letter
Neuropathy secondary to Diabetes Mellitus Nexus Letter
Obesity as an Intermediate Step Nexus Letter
Parkinson's Disease Nexus Letter
Pes Planus worsened by Military Service Nexus Letter
Plantar Fasciitis Nexus Letter
Posttraumatic Stress Disorder Nexus Letter
PTSD Nexus Letter
Renal Disease Nexus Letter
Renal Cell Carcinoma Nexus Letter
Right Knee Condition secondary to Left Knee Condition Nexus Letter
Schizophrenia Nexus Letter Nexus Letter
Sinusitis Nexus Letter Nexus Letter
Sleep Apnea Nexus Letter Nexus Letter
Sleep Apnea secondary to Allergic Rhinitis Nexus Letter
Sleep Apnea secondary to COPD Nexus Letter
Sleep Apnea secondary to Deviated Septum Nexus Letter
Sleep Apnea secondary to Diabetes Mellitus Nexus Letter
Sleep Apnea secondary to Hypothyroidism Nexus Letter
Sleep Apnea secondary to PTSD Nexus Letter
Sleep Apnea secondary to Sinusitis Nexus Letter
Stress Incontinence Nexus Letter
Tinnitus Nexus Letter
TMJ Syndrome Nexus Letter
Traumatic Brain Injury Nexus Letter
Venous Insufficiency Nexus Letter